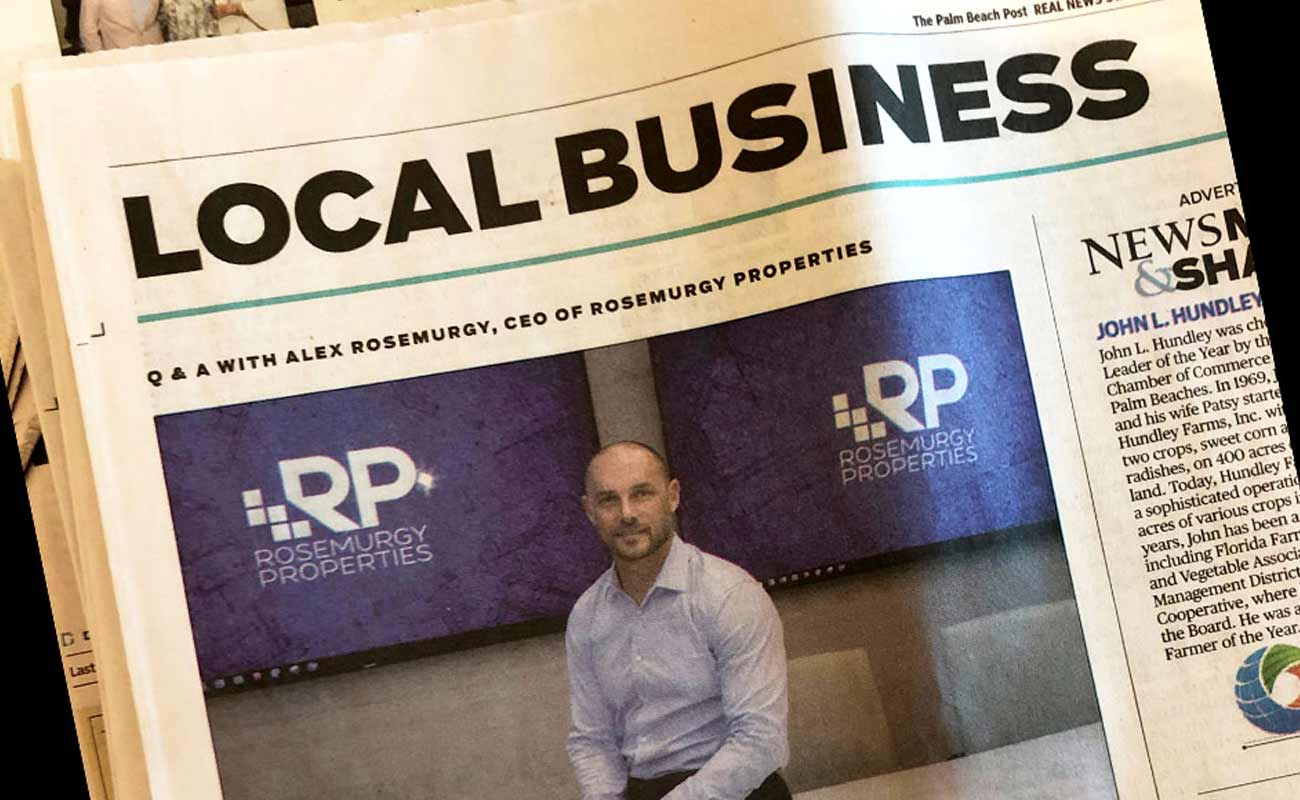 29 Apr

CEO of Rosemurgy Properties opens up about the "big picture" in development, RP's headline project: Uptown Boca, and the future of Palm Beach County.
Boca Raton, FL – April 29, 2019
By Jeff Ostrowski
The Palm Beach Post
Development firm Rosemurgy Properties owns retail projects throughout Florida, and the company is building what Chief Executive Alex Rosemurgy considers his most ambitious project. Uptown Boca west of Boca Raton will include hundreds of apartments and a retail center on a 38-acre parcel on the south side of Glades Road east of State Road 7. "It's bringing a fully integrated, fully walkable project to the suburbs," Rosemurgy said. Rosemurgy is pursuing other development projects as well — while also keeping a wary eye on the economy. "It's the longest cycle we've ever experienced," Rosemurgy said. "Everyone's scratching their heads and asking the same thing: What inning of the ballgame are we in?"
About your company: The headline project for us right now is Uptown Boca. It's a million square feet at the corner of Glades and U.S 441. There are 456 midrise rental units, a luxury movie theater, a Lucky's grocery store and a host of restaurants. We're bringing in Bolay, Bonefish Grill, Burger-Fi and Chik-fil-A. We're also working on an assisted living facility in North Boca with a joint venture partner. We hope to break ground in July. Our company has 18 employees. We keep it pretty small, pretty tight.We work hard to outsource as much as we can. We're in a cyclical business.
Hometown: Boca Raton.
First job: I was teller at First Union Bank at the corner of Military Trail and Palmetto Park Road. I started there in late high school, and when I came back from the summers in college, I worked there. I learned the importance of balancing your cash drawer at the end of everyday, and I learned the importance of customer service. The customer is always right. It was a challenging job in that sense—just making sure customers felt they were being heard and taken care of.
Best business advice you've ever received: It was from (former General Electric Chief Executive) Jack Welch. I had an opportunity to meet him years ago at a talk he gave in Palm Beach County. I asked, "What's the one piece of advice you'd give?" I'm sure he's been asked that 1,000 times. He said, "Always celebrate your victories. If you don't celebrate, it's easy to forget everything you've done right."
Best business book you've ever read: The Alchemist by Paulo Coelho. It's probably not a business book, but it talks about identifying signs in life and being aware of them. For me, that was a really important book that has helped me not to force things. In every deal, you reach inflection points, and you have to decide what to do.
Biggest mistake you've made in business: Getting too caught up in the details— whether it's a parking issue or an easement or something else—and not seeing the bigger picture about a piece of real estate. As I've gotten more experienced, I've learned that lesson. Is the location good? Is it a good piece of real estate? Every deal has a problem—has hair on it, as we say. But don't let the small details overshadow the bigger picture. Uptown Boca was one of those deals were it was just a great piece of property, and we worked really hard through all the issues.
Most important trait you look for when hiring: Longevity in their roles. We look for loyalty to their jobs and a commitment. If someone did a lot of job-hopping, we might take a pass. And how much responsibility did they take in their roles?
What do you see ahead for Palm Beach County? Palm Beach County has its best years ahead of it—great opportunities for growth. We've got the ocean on one side, which makes for a unique lifestyle. We also have tax advantages.
jostrowski@pbpost.com@bio561
About Rosemurgy Properties
Rosemurgy Properties, headquartered in Boca Raton, Florida, is a privately owned commercial real estate development, investment and management firm with more than 40 years of experience in the industry. The company maintains a diversified portfolio over several asset classes which include multifamily, self-storage, retail and office. Rosemurgy Properties has developed and acquired over 2 million square feet of commercial real estate in the past 15 years in various partnerships. A developer that has been at the forefront of trends in their respective markets, Rosemurgy Properties is involved with a number of notable projects such as Uptown Boca, the Florida Atlantic University Research Park and Innovation Centre, as well as University Park, the first purpose-built student housing development in Palm Beach County. The company, which includes general contracting, property management and asset management services, owns commercial properties throughout Florida and the Carolinas. For more information, please visit www.rosemurgyproperties.com.
About Alexander S. Rosemurgy II
Chief Executive Officer, Rosemurgy Properties | Managing Partner, Park Partners Residential
Alex Rosemurgy is the CEO of Rosemurgy Properties, a privately owned commercial real estate development, investment and management firm.  Founded in 1977, Rosemurgy Properties portfolio assets include multi-family, self- storage, retail, office and undeveloped land.  Mr. Rosemurgy was named Chief Executive Officer of Rosemurgy Properties in 2010.  Since then, the Company has expanded its portfolio to over $600 million in assets under development and management throughout the Southeast and actively developed over 2 million square feet of commercial real estate.  Notable developments include The Research Park at Florida Atlantic University and University Park, the first purpose-built student housing development in Palm Beach County.
_
Media Contact:
Melissa Sweredoski
melissa@levypublicrelations.com
Levy Public Relations
305.764.3370 ext.201